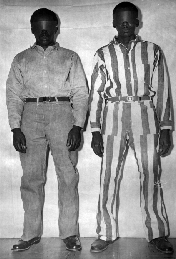 While I try to take seriously the trials and tribulations of my teenage students, I just had no sympathy today.
The high school students are headed out tomorrow on a field trip. They will go to the state house, a chinese-american-french fusion cheap buffet for lunch, and then to see the movie, The Nativity. Since its a field trip, we're allowing the kids to NOT wear their uniforms, but have set a reasonable standard of no immodest clothing, and no blatant logos or advertising.
"So, what can we wear? Just plain colors?"
"Well, no... you can wear stripes or anything other clothing that doesn't have a picture or a logo on it."
"Stripes? You want me to wear stripes?? Fine, I'll wear stripes."
Okay... I tend to think this child perhaps had a traumatic experience with a prison uniform... but who can say.
I'm taking pictures tomorrow :)